While it is great to have your own clothes dryer at home, avoiding the hassle of going to the laundry mat where you never know how long it is going to take, or if the previous customer left dye or other contaminants in the machine, these appliances can break down from time to time. When you have realized that your laundry dryer is no longer functioning optimally, then you need to obtain professional services in order to have it repaired as soon as you can. Otherwise, you are likely going to increase your electric bill by using a machine that is functioning sub-standardly, risk a fire hazard or cart your wet laundry to the local laundry mat, where you will have to deal with the various people and situations that may arise in such a public location.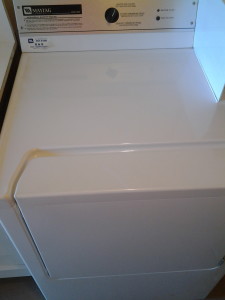 Taking too long to dry
There are a variety of signs that can indicate that it is time for you to contact your local dryer repair service technician. One of them is if it is taking far longer for your clothes to dry than it has in the past.
Not enough heat or no heat
Additionally, if you dry your items on high, and they are only warm or worse yet cold, then you are certainly in need of having the machine checked out.
Too Hot
Similarly, if the machine reaches temperatures that are in excess of the settings you had selected for that load, something is certainly amiss with your machine. However, temperature concerns are not the only thing that you might notice that you need to have someone come in and look at.
Not Tumbling
Another common issue is when the tumbling mechanism is no longer operating properly. You may notice that your clothes do not move at all or that the pattern is erratic and unpredictable.
Noisy
Some people hear sounds that are abnormal coming from inside of their clothes dryer before it becomes visible that there is an internal problem.
Timer not advancing
Additionally, if you notice the timer or any of the other controls is not working right, you should have it checked out. While you may be tempted to work around the situation, it could be indicative of a larger, more serious problem, such as an electrical short inside of the dryer.
If you notice any of these issues with your dryer, you should disconnect the unit and call your repairman immediately to schedule an appointment.
Other issues consumers see are:
Unit not starting
Taking too long to dry
When using the auto dry setting it shuts off too soon
Won't turn off.
We provide same day service to these communities: